Wow! I Made That! Getting more into woodworking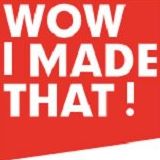 The 'Wow I made that' campaign aims to provide information, advice and guidance to young people interested in a woodworking career in the joinery industry.
Follow the campaign on Facebook.
Careers in woodworking and joinery manufacturing
Want to feel good about your job? Want to have something to show for your working day?
Join up with the Joiners for a satisfying, creative, and planet-saving career:
Satisfying
Joiners create and produce all kinds of objects and installations using wood and wood-based products. As apprentice joiner Tom McKillop says: "I like to stand back at the end of the day and say 'I made that'".
Creative
Joinery makes the best use of precious wood resources, finding the most efficient way to make what's needed. The work can vary from day-to-day depending on what's being made to order. Find out more about the job roles in joinery
Planet-saving
Using wood to make long-lasting items like staircases, archways, windows, doors and kitchens locks away CO2 in the fibre of the wood. Wood can also be repaired and maintained to give it a long life before it's eventually recycled. And while you're using wood, forest owners who've signed-up to sustainable forest management certification are growing more. Trees in growth absorb CO2 so using and growing wood helps the planet.
'How I got into joinery' – Read the stories of some of our brightest and best apprentices in the joinery industry
What can you earn as a joiner?
An apprentice bench joiner or wood machinist can earn about £15,000-£24,000 a year. When you qualify you'll start earning from around £18,000 and go up to about £35,000-£40,000 after many years of experience.