Find a Stair Scheme Member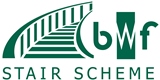 Members of the BWF Stair Scheme
have committed themselves to a comprehensive audit and accreditation process in order to prove that they can meet the high standards of the scheme*. The list of stair manufacturers, in alphabetical order, who are members of the BWF Stair Scheme are:
Members of the BWF Stair Scheme:
A & A JOINERY
AVC LTD (STAIRBOX)
BENLOWE GROUP LTD
CENTRAL JOINERY LTD
CULLUM AND CLARKE
DAVID SMITH ST IVES
DAVRIC GROUP HOLDINGS LTD
DERNIE & BELL
E.A. HIGGINSON AND COMPANY LTD
ELMWOOD JOINERY (EAST ANGLIA) LTD
HM STAIRCASES
FLIGHTWISE JOINERY LTD
GD WOODWORKING
JELD-WEN UK LIMITED
KWIK STAIRS
LONGWOOD JOINERY
MH JOINERY PRODUCTS PLC
NORTHERN JOINERY
ONE STEP JOINERY
P & L JOINERY
RM JONES JOINERY
SANDIFORD, SON & BANNISTER LTD
STAIRPLAN
STAIRWAYS GROUP
STAIRWAY JOINERY
STAIRCRAFT (MIDLANDS) LIMITED
TIMBER STAIR MANUFACTURERS LTD
TRIONIC JOINERY BUILDING COMPANY LTD
TWO TWENTY LIMITED
Supplier/Associate Members (these companies provide materials to manufacturers to use in production, i.e. Timber, Coatings etc)
CHESHIRE MOULDINGS
CLIVE DUROSE
INTERNATIONAL TIMBER
METSA WOOD UK LIMITED (FINNFOREST)
C4Ci
STAIRCON
More on the BWF Stair Scheme
All companies within the scheme are regularly audited to ensure their products and their production meet these high standards, and fire tested for fire protected common stairs.
The scheme is managed by the BWF, and includes manufacturers, as well as approved suppliers, who play an important part in maintaining these standards.
More information on membership and criteria for admission of the BWF Stair Scheme can be found here
* Please note BWF Stair Scheme members are regularly audited against the scheme's strict criterea of membership (and in the case of badged fire protected stairs product further certificated by LPCB).  BWF does not offer any guarantee on their work and cannot accept responsibility for any works undertaken by members of the scheme.  If a problem arises we do have a dispute resolution process and details can be provided via bwf@bwf.org.uk
It is recognised that a manufacturer is only responsible (unless otherwise stated) for the product provided and advice and design (as approprite) and cannot be held liable should the stair be installed badly by a third party or a henceforth unknown or subsequent decision by an external party could render the installation incompliant with current regulation.  The BWF Stair Scheme does not accredit installation, however, to support the supply chaing guidance is available on the installation of staircases.