Outstanding achievements in joinery celebrated at BWF Woodworking Awards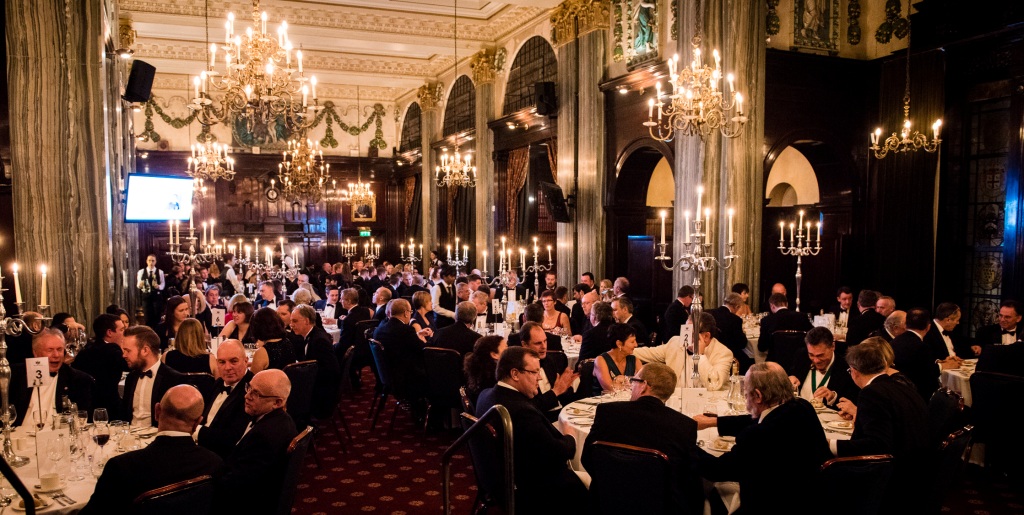 The best achievements in technical innovation and professional development within the joinery & woodworking sector have been recognised in five of the industry's most prestigious awards.
The BWF Annual Dinner & Awards 2015, hosted by BBC business and economics journalist Declan Curry, took place on Friday 20 November at the Law Society in Chancery Lane.
With a record number of entries, the judges had to choose between a number of ingenious innovations and outstanding examples of personal and business excellence. You can watch BWF's short video presentation on the shortlisted projects here: www.bwf.org.uk/choose-wood/awards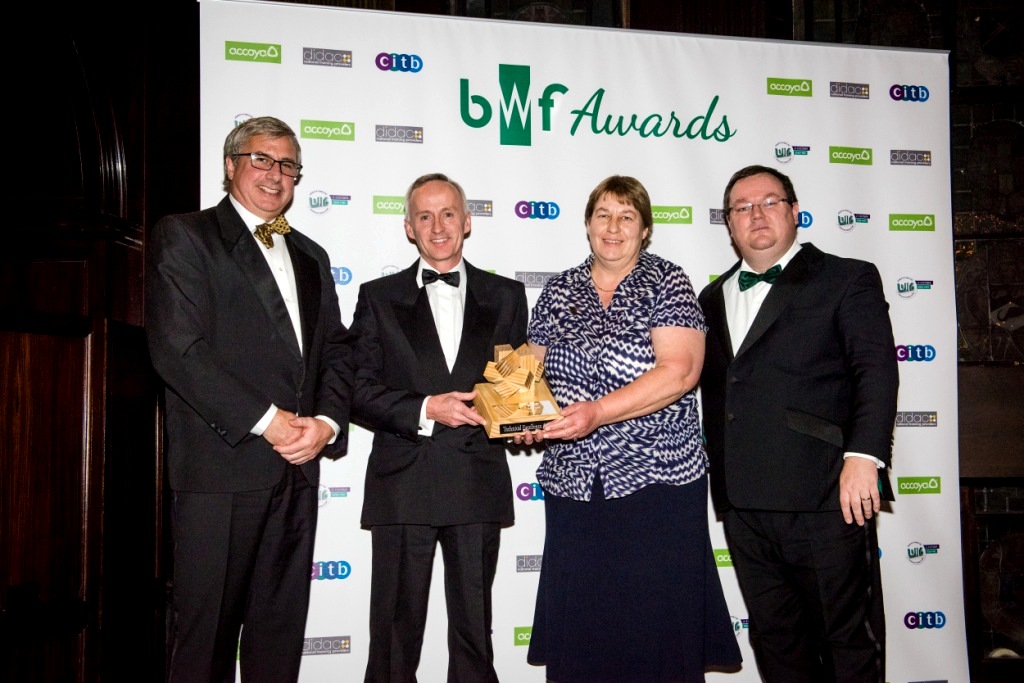 The longest standing award, the Technical Excellence and Innovation Award (kindly sponsored by Accoya) was set up in 2010 in memory of John Hedgecock, the former technical director of the BWF. Presented to Houghtons of York Ltd for a second consecutive year, the award was given for the manufacture and stunning hand carving of a reredos and gradine for a private chapel (Roger & Susan Silk of Houghtons collect the award). The judges were hugely impressed with the range of quality and skill on show. This included ornate moulding, demanding and intricate machining, hand carved and lathe turned elements, and gold leaf finishes. The judges said "this was a precise, technically challenging and truly stunning piece of joinery."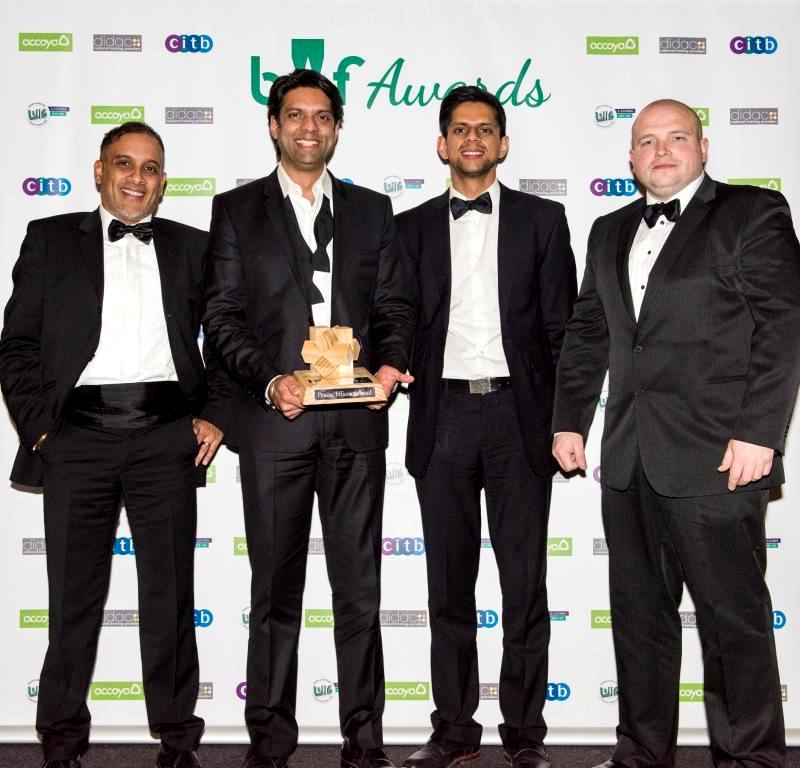 AJB Woodworking Ltd was the recipient of the Process Efficiency Award (kindly sponsored by W16 Exhibition). The company invested £1.5 million into new factory premises, a huge move with great upheaval for both business and staff. Although some staff were unable to relocate, efficiency savings meant that production could still be sustained. The production lead time has halved and they are expecting to increase staff by a third in 2017. Judges commented that the "entry stood out because the company saw potential for growth and efficiencies and grabbed it. The business had a definitive goal which they achieved whilst maintaining interaction with their staff, good customer service, time keeping and overall cost effectiveness."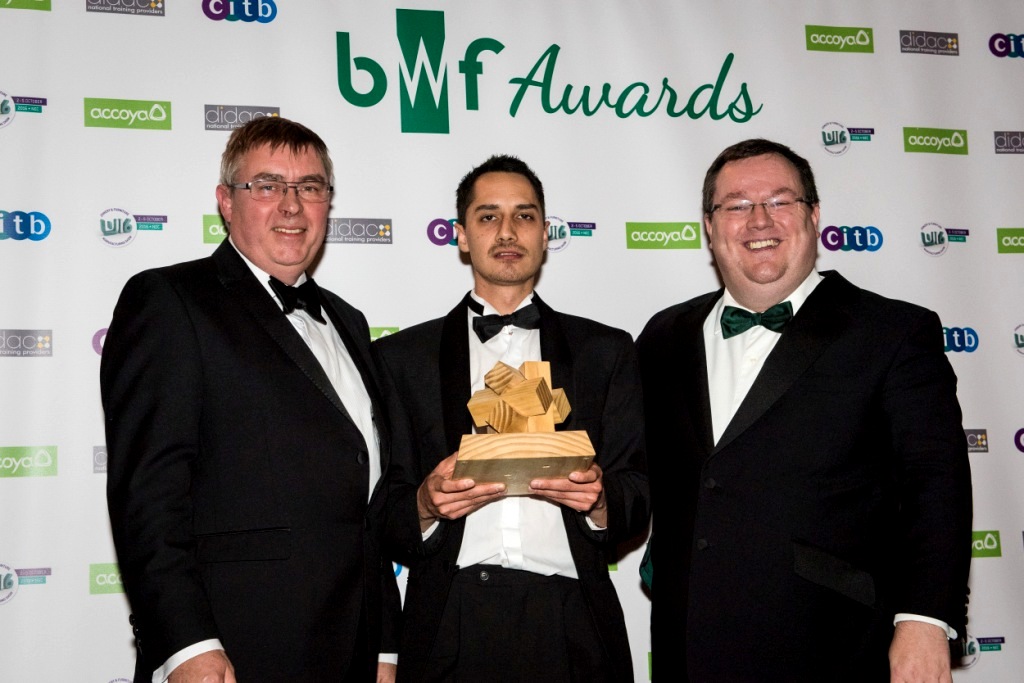 Now in its second year, the Health and Safety Hero Award (kindly sponsored by Didac) was born out of the BWF's campaign of the same name. Lawrence Pereira of D J Newman Joinery Ltd was crowned Health and Safety Hero. He was praised by judges for his dedication to transforming the health and safety of the business. After a full independent audit of health and safety practices, Lawrence introduced new policies, manuals and training for the workforce. He has liaised with all employees to see what could be done to make the workplace safer. Judges said Lawrence worked "tirelessly at every stage, drilling into the workforce their responsibilities to each other."
The joinery and woodworking industry consistently rank first in construction for apprentice numbers and claiming grants for training. Recognising the importance of new talent in the industry, two awards were given to young people working within the joinery and woodworking sector.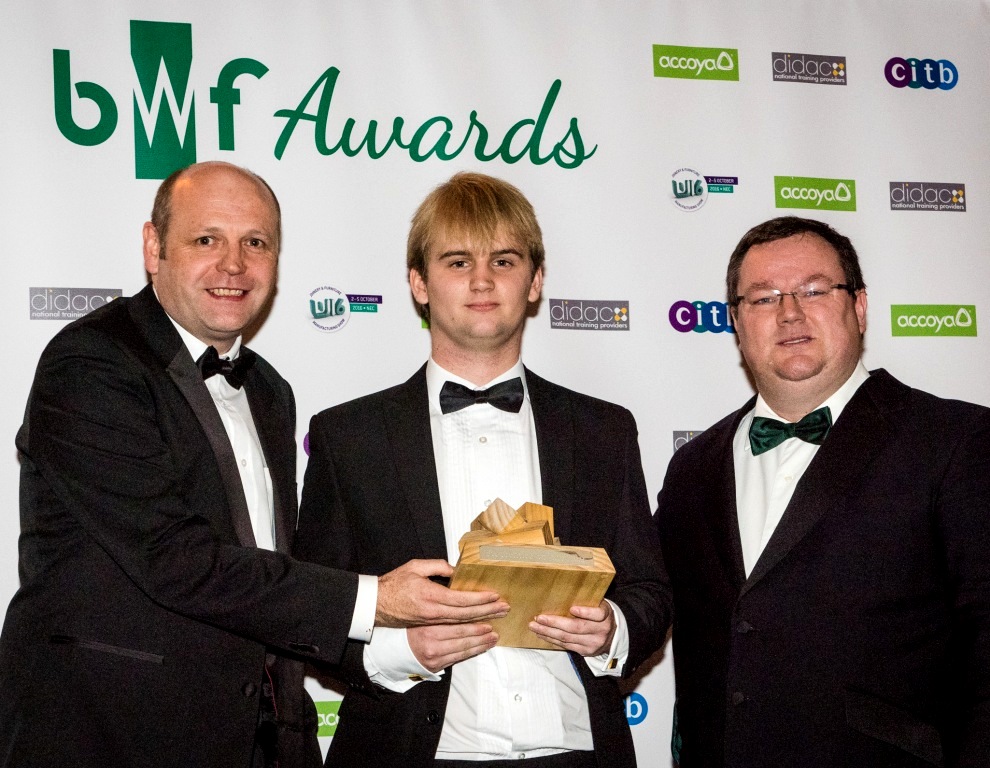 Joe Handy of West Oak Joinery Ltd was awarded Apprentice of the Year (kindly sponsored by CITB). After completing his school work experience at West Oak Joinery, Joe went on to begin his apprenticeship when he left school at 16. Judges said: "the quality of his workmanship has been second-to-none, showing skill and knowledge from the interpretation of drawings and design, mastering complex production of panels, sashes, kite and winder stairs, and curved oak frames, to name a few. He is maturing well beyond his years, and is now an integral and vital part of the team."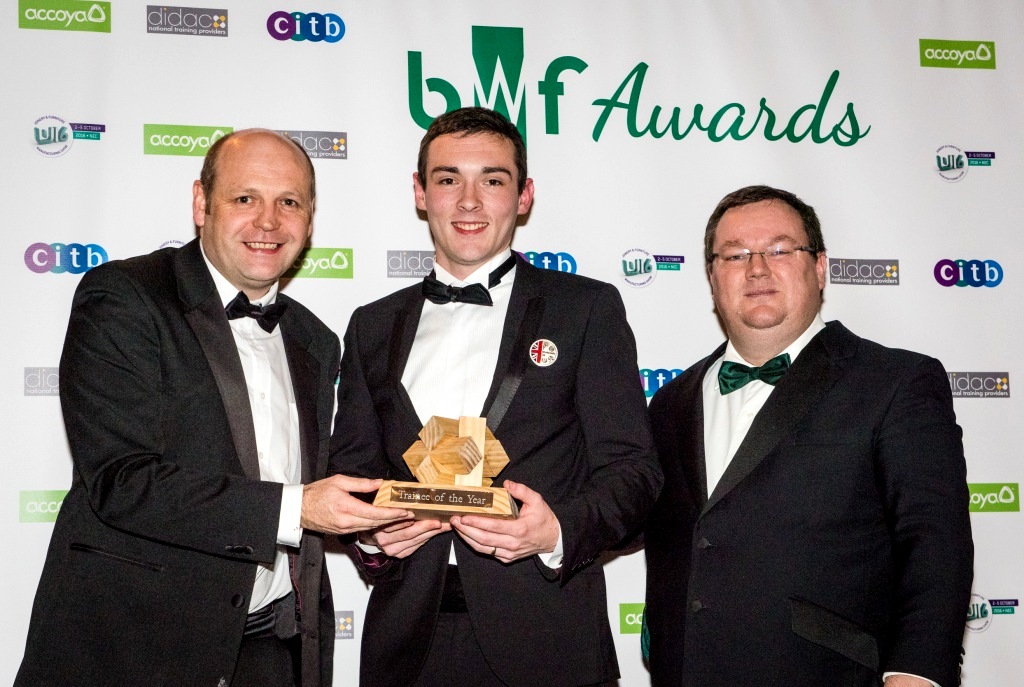 The Trainee of the Year (kindly sponsored by CITB) was presented to Dale Hodgins of Beard Evans Joinery Ltd, who impressed the judges with his "strong aptitude for understanding drawings and producing an exemplary standard of work." Everyone has been impressed by the levels of skill and commitment shown by Dale after just nine months. He has also competed in the World Skills Competition in the national heats and has now travelled the world showing off the high standards of UK joinery.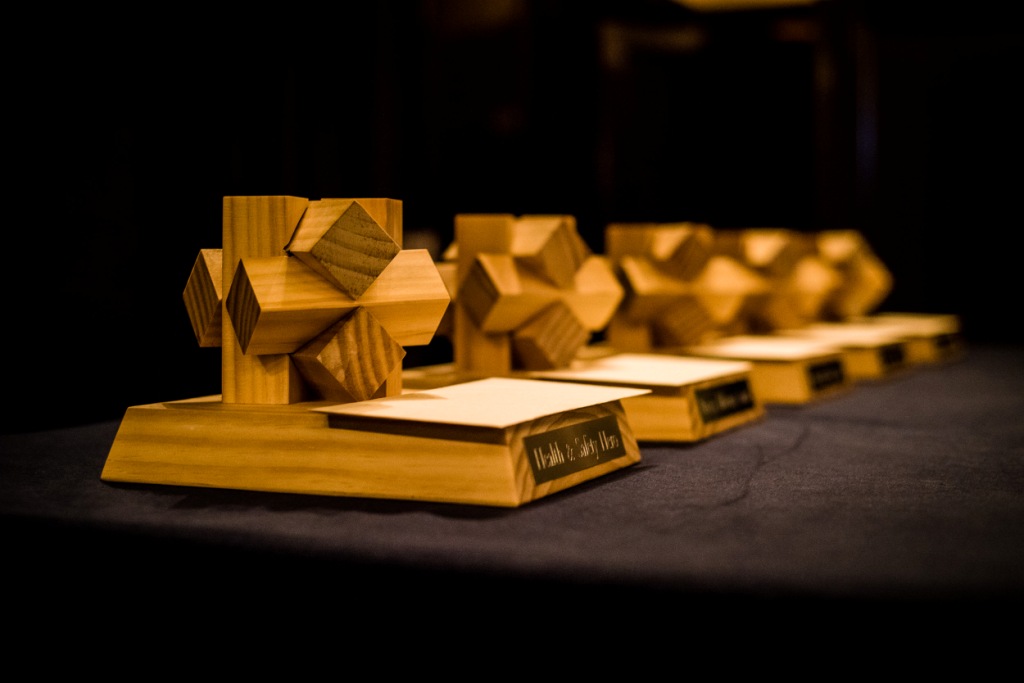 Iain McIlwee, chief executive of the BWF, said:
"The BWF awards provide us with the opportunity to showcase some of the most gifted businesses and individuals in our industry who make some of the most exciting products and projects that can be achieved using wood. All winners and those who were shortlisted for the awards deserve our respect and recognition."
Here you can see more photos of the event: www.flickr.com/photos/128868938@N05/sets/72157659232793384/
The BWF Woodworking Awards were sponsored by Accoya, CITB, Didac and the W16 Exhibition.