What is a Life Cycle Assessment?
What is a Life Cycle Assessment and what is an Environmental Product Declaration?
A Life Cycle Assessment (LCA), also known as life-cycle analysis, is a technique to assess the environmental impacts associated with a product over a defined time period. LCA data for a construction product, such as a window, will include the environmental impacts from raw material extraction, through materials processing, to manufacture, distribution, use, repair & maintenance, and disposal (or in some cases recycling).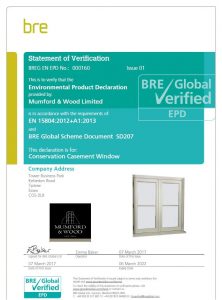 Information on the product, such as energy usage in manufacturing, service life and thermal performance will have been gathered and used to calculate the impact of the product. Depending on the scope of the project, LCA can measure the relative environmental impacts of using different materials to manufacture a product and it can also be used to analyse the benefits of high performance specifications over generic industry products. An example of an LCA is a recent study which identified the cradle-to-grave environmental impacts of wood, modified wood and aluminium-clad windows and provided a comparison with PVC-U alternatives.
An Environmental Product Declaration (EPD) is a standardized, LCA-based way of communicating the environmental performance of a product. Modeling LCA data underpins environmental profiles such as the Green Guide rating, which is a measure of overall environmental impacts and covers a range of issues from Climate change and Mineral resource extraction, to Human toxicity and Waste disposal.
Can I get an EPD or LCA data for joinery products?
Getting this data for a product has traditionally been a costly affair, but not any more. Joinery manufacturers and woodworking firms promoting their timber products within the UK construction industry can now obtain life cycle assessments via the BWF to prove their environmental sustainability credentials.The important new service for BWF members comes as a result of BWF becoming the first customer worldwide for the BRE's new environmental products calculator LINA.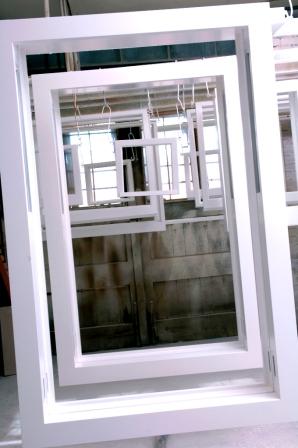 The new tool allows the BWF to produce life cycle assessment results for its members' products which are then uploaded into the BRE Hub so that a third party verified BRE Global Environmental Performance Declaration (EPD) can be produced.
The world's first verified Environmental Product Declaration (EPD) calculated through the new BRE LINA tool was unveiled at Ecobuild on 7th March 2017. BWF and Wood Window Alliance member Mumford & Wood's Conservation Casement Window became the first product to receive a verified EPD. Here you can view the EPD.
The BWF's approach has been welcomed across the construction industry and supported by Environmental NGOs such as WWF-UK, who have commented:
"Government figures suggest that we may need to build a million new houses by 2020.  As we seek to ensure that this construction, and indeed, on-going repair and restoration of existing housing stock, has the lowest possible environmental impact it is critical that we understand the full life time costs of all the products we use.  This applies to everything – cement, brick, doors, windows etc – and tools exist to help builders, suppliers and consumers to understand the true, full costs – from sourcing, manufacturing, transportation, life time use and disposal – so that decisions can be made on the best possible information.  Life Cycle Assessments are one such way of capturing this information and WWF welcomes the British Woodworking Federation's leading the way in adopting this approach"
The results can also inform assessments for ISO 14001, EN 15804 (the European standard for the sustainability of construction products) and other environmental management systems, and can feed into BIM (Building Information Modelling). For further information on how manufacturers can get assessments for their products, email kevin.underwood@bwf.org.uk. For further information on LINA, go to www.bre.co.uk/lina

Why is Life Cycle Assessment data important for timber products?
Over recent years the wood industry has worked with suppliers and manufacturers to produce highly durable finished timber products backed by performance warranties. This has resulted in a significant and sustained increase in market share.
As regulatory and legislative frameworks for construction and manufacturing get ever tighter, environmental impacts, alongside cost and performance, are becoming key customer drivers throughout the construction products sector.
This in turn means that there will be further demand from clients in the construction and manufacturing industries for robust, accessible data showing measurement and assessment of supply chains, performance of products in design, construction, whole-life assessment and end-of-life considerations among other factors.
Specifiers and buyers will choose the products and materials for which clear data exists and ignore those which cannot back up their claims of durability, value and environmental impact. The use of Building Information Modelling (BIM) processes will put further pressure on manufacturers to provide shared data on the functional characteristics of products from the earliest conceptual stages.
So what else is the joinery industry doing?
Many other industries, including competing material sectors, have already recognized the importance of LCA data and have been promoting the positive information to their target audience. The timber industry is determined to do the same and is well placed to take advantage, with LCA profile studies having already shown that wood windows manufactured from certified timber with guaranteed service life and low maintenance requirements score environmentally better than other window materials.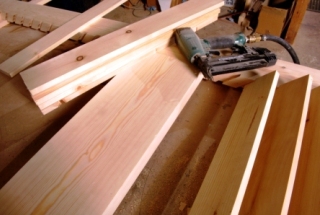 Improved LCA data is helping to establish that wood windows are increasingly recognized as better long-term value, as well as more sustainable. An example of this is a recent study by Davis Langdon which showed the frames are carbon negative over their whole life.
Research by Imperial College London and Heriot Watt University provided evidence that PVC-U windows have roughly four times the CO2e impact of wood windows and roughly twice the impact of modified wood or aluminium-clad windows.
Wood windows made to wood window alliance standards offer better value over 30 years or more than PVC-U, even allowing for maintenance; while modified wood and aluminium-clad windows offer better value in severe exposure conditions (coastal areas or high-rise).
Tools such as BRE's LINA mean that manufacturers can now have their products environmentally profiled, and initiatives such as the Wood First Plus project by Wood for Good has targeting LCA data as one of three areas key to specification and design with timber.
The Wood First Plus project aims to gather the data and communicate the environmental impacts associated with timber through LCA methodology, provide a system to develop Environmental Product Declarations (EPDs) for products and identify areas of significant environmental impact to aide supply chain improvements and efficiency.
Follow this link to learn more about the work of Wood for Good.
Specifying a joinery product? Find a BWF member who can provide it on our easy-to-search supplier database
Learn more about Embodied Carbon via our blog post summarising Embodied Carbon Week