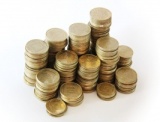 The government has announced that it will charge a levy on some employers across the economy to pay for apprenticeships, coming into effect in April 2017. There are also new funding rules in England for employers of all sizes to access government funds to support apprenticeship training.
Levy Introduction: Employers who have a payroll of £3m+ will start paying an 'Apprenticeship Levy' as of the start of the new tax year (first payroll from 6th April 2017) at a rate of 0.5%. Those that do pay can register for a 'digital account' where levy funds will be kept for use against apprenticeship training. Funds collected from the levy will appear in these accounts by the end of May 2017. The government will top-up an employer's digital account funds by 10%. Employers can register for their digital accounts from January 2017.
Log in and watch our recorded webinar on the UK apprenticeship levy and how you can access the levy funds for apprenticeship training.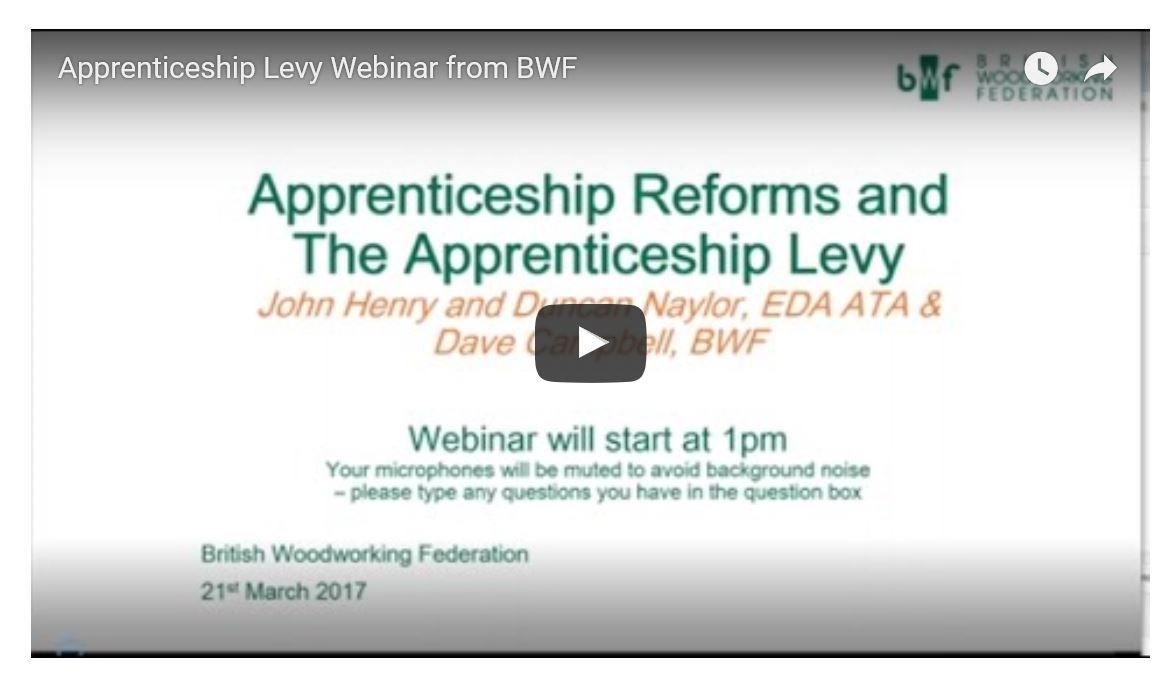 Employers that do not pay the levy (i.e. they are under the £3m payroll) will not get a digital account and government funding for their apprentice training will continue to be routed to the college/provider (for now – this is likely to change in 2018-2019). However, we are expecting the pot of money in which colleges and training providers tender for support for SME employers to be significantly cut, which may result in many not receiving contracts to deliver apprenticeships or having significantly smaller of places available. BWF is looking at ways to mitigate this threat to the supply of apprenticeship training and will be launching a new scheme to help later in 2017.
This levy does not affect any employer's liability to the CITB levy, which is separate to the government levy. However, CITB is consulting how to change its levy system to reduce the burden on those employers that will be liable for both. This year, employers that will have to pay both levies will have access to transitional funds from CITB to offset the extra outgoing to government. In the longer term, the CITB Levy & Grant Scheme Review is looking at reducing the PAYE levy that you pay to CITB.
New Funding System Introduction: This will be introduced from 1st May 2017, so any apprenticeship 'starts' from this date will be subject to the new funding regime.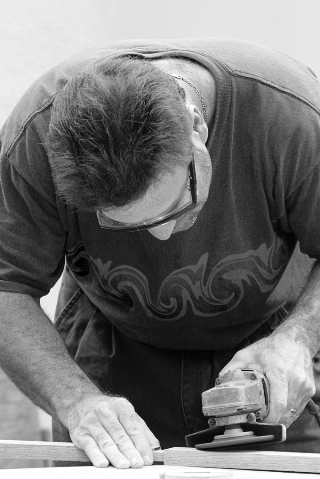 Those that do not pay a government levy, will pay 10% of the cost of the apprenticeship, with government topping up the rest (90%). For example, if your Bench Joinery apprenticeship costs £6,000 in total, you will pay £600 and the government will pay £5,400. You pay your contribution to the college/provider directly (for now – although when digital accounts are introduced for all employers, it will be done through this mechanism).
There are some exceptions to this 10% employer contribution:
·         You employ less than 50 employees and the apprentice you are taking on is aged 16-18.
·         The apprentice you are taking is leaving care or has an 'education, health and care plan' (any age)
This is still subject to the cost of the apprenticeship agreed with the training provider being within the funding band set by government – if the cost is higher, employers must make up the difference.
Those that do pay a levy can pay 100% of their apprenticeship training costs with the funds in their digital accounts, as long as they do not exhaust the funds in their account and the price of apprenticeship the employer agrees with the college/training provider is not above the 'funding band' set by government.
If all funds are used up, then employers can access government support by the same rules as those that do not pay the levy outlined above.
Levy payers have 24 months in which to use the funds in their digital accounts towards apprenticeship training (this is 6 months longer than originally outlined) before they expire. Funds are added to the digital account monthly, and the oldest funds will expire first.
Additional Government Grants for Apprentices: If an apprentice is 16-18 both the employer and college/provider will be able to claim £1,000 each in recognition for the extra resource required for taking on a young person. Employers will claim this through their college/provider.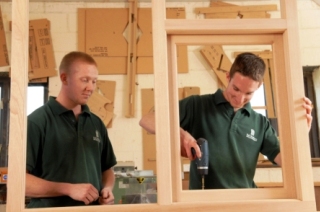 Amount of apprenticeship funds available is calculated based on employees location for England. Calculations done each quarter but can be updated in real-time on HMRC account.
Colleges/Providers will be given a temporary 20% uplift on any apprenticeship 'frameworks' still being used where apprenticeship 'standards' still in development (see below for explanation). This uplift is not likely to last longer than 12-24 months.
Government will continue to fund any apprentice that requires English and Maths qualifications where they have not achieved an acceptable stand at school. This will be paid directly to the college/provider.
New Funding Bands for the cost of apprenticeships: The government has put a maximum value against each type of apprenticeship. While they range from £1,000-£27,000, Bench Joinery (and the other wood occupations) will be £6,000 for a two-year apprentice and £9,000 for a three-year apprentice. Employers are now able negotiate directly the cost of their apprenticeship, but these values are the maximum to which government funding can be allocated. So, you are a levy paying employer the government/your levy funds will only pay up to £6K or £9K respectively, or if you are not paying the levy and you are required to make a 10% contribution, the government will only pay up to £5,400 or £8,100 respectively.
The above applies to the current apprenticeship 'frameworks'. The government is phasing these out for apprenticeship 'standards' (also known as trailblazers) by 2020, for which the content is directly written by employers. This process is near completion for bench (architectural) joinery and carpentry, when this happens, the maximum funding band is expected to be higher. BWF will inform members when these changes come into play.
Employers in Scotland, Wales and Northern Ireland: While the apprenticeship levy is UK-wide, skills policy is a devolved issue. The introduction of the levy and employers' liability will be as outlined for England, but the distribution of funds by the devolved administrations has not yet been outlined (i.e. is may or may not follow the 'digital account' model), but it is likely that it will not be ringfenced for those employers that pay the levy.
Employers operating across national borders, or close to borders: Where an employer has places of work in England and in one or more of the other UK nations, HMRC will allocate the appropriate proportion to the English digital account or to each devolved administration once those terms are agreed.
If an apprentice workplace is in England, but lives in Scotland, Wales or Northern Ireland, the employer can claim funds from their digital account to pay for an English apprenticeship Framework or Standard.
All funding arrangements and additional grant support does not apply to Scotland, Wales or Northern Ireland.
If you have questions on the above or would like more information or clarification, please contact Dave Campbell at dave.campbell@bwf.org.uk or call 0844 815 9981.
Too see some excellent guidance on the Levy and voucher system from CITB click here.